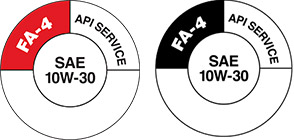 API FA-4 Oils
API FA-4 is the brand new category for oils. It will not be interchangeable with older oils, and will have limited backwards compatibility with older engines. It is advisable to consult with your OEM to determine suitability with your engine.
API FA-4 describes certain XW-30 oils specifically formulated for use in select high-speed four-stroke diesel engines designed to meet 2017 model year on-highway greenhouse gas (GHG) emission standards.
The formulations
API FA-4 is specifically designed for some newer vehicles. FA-4 oils will have a considerably lower viscosity, meaning less friction and less viscous drag in the engine, and deliver a reduction in fuel consumption, while still offering increased levels of wear protection. Future heavy duty fleet vehicles may be designed to comply with this specification to offer even higher levels of efficiency. Many OEMs have yet to decide their level of engagement with this type of oil.
What are the performance advantages?
API FA-4 oils are designed to provide enhanced protection against oxidation, viscosity loss due to shearing, and oil aeration as well as protection against catalyst poisoning, particulate filter blocking, engine wear, piston deposits, degradation of low- and high-temperature properties, and soot-related viscosity increase.
The guidance on API FA-4 use should be heeded: Refer to engine manufacturer recommendations to determine if API FA-4 oils are suitable for use in your engine.